I bought this sad bench a while ago. The lady I bought it from wasn't planning to sell it until she had painted and reupholstered it. As she talked, all I heard was "red....velvet.....floral" and I knew I had to save this poor bench from certain embarassment.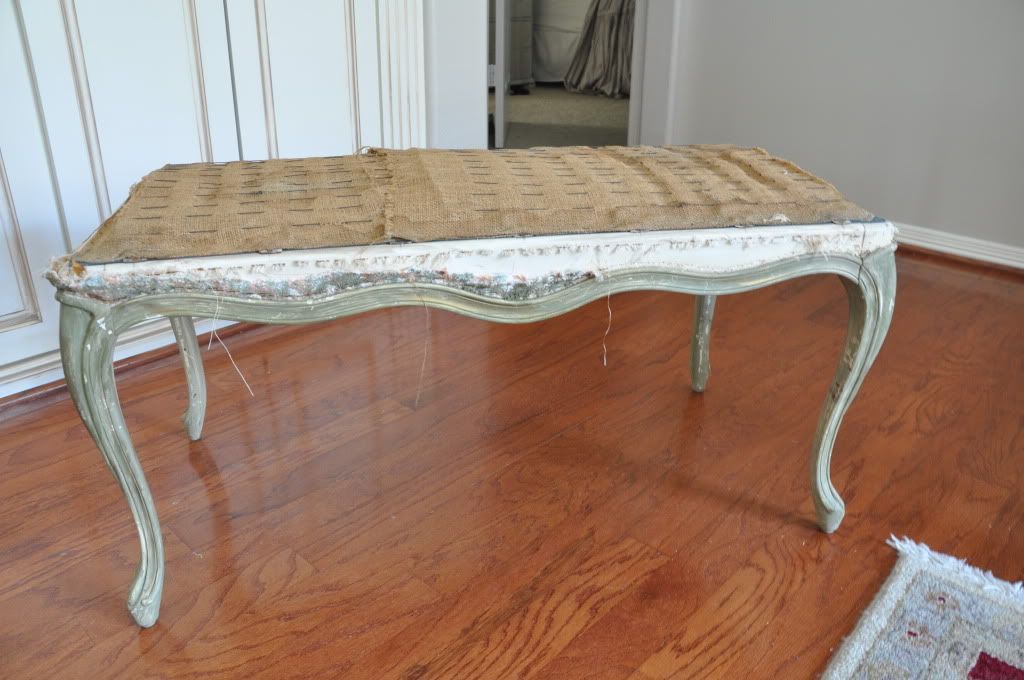 It looks worse than it really is. The springs and seat part were in good shape. I knew it just needed a paint job and some foam/batting/upholstery on top. That's something easily remedied with my handy dandy staple gun.
First I gave it a coat of Valspar's Sea Salt Blue...love this color. Then I dry brushed my Annie Sloan's Old White Chalk Paint over the blue. A coat of Clear Hannant's Wax. Then a little strategic sanding (which ended up letting the weird green peek through but I rolled with it). Then a bit of Fiddes & Sons Jacobean wax. Using the waxes is a learning process but I've found I like the finish and control these waxes give you.
On to the upholstery....
I cut 1/2" high density foam and 1 layer of quilt batting to size.
Then staple it all down. I don't think I even bothered to staple the foam. I just stapled the batting over the foam to keep it in place.
Then staple the fabric down. This is the part that makes me sweat....literally. I usually staple in the middle of each side, pulling tight as I go. All that fabric pulling is a strength work out. Then staple all in between.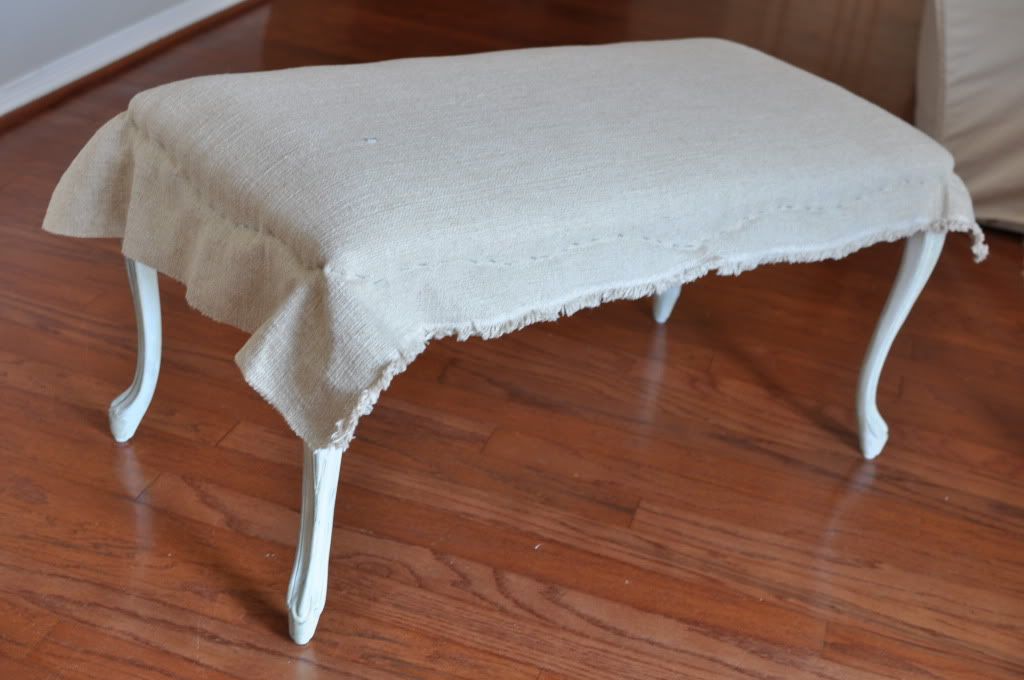 The corners can be tricky. I usually start with a staple in the corner, then start stapling to either side of that staple and work out toward the sides (does that even make sense?)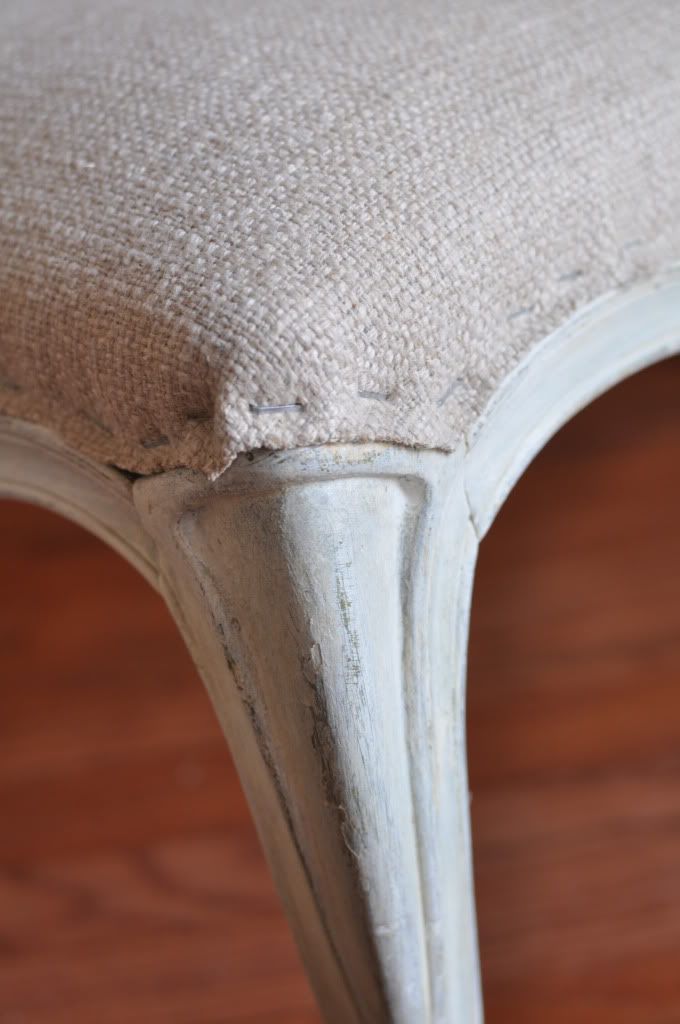 Stapling can drive one crazy but I was just thankful I didn't have to contort my body like I did for
the french chairs
. Now that was major work.
Next on to the finishing touch...the piping. Now, I was prepared to
make my own piping like I did for my daughter's headboard
. However, the fabric I bought was a bit thick. I don't know if you can tell from the pictures, but the weave and hand reminds me of an antique grainsack. It has a beautiful texture. I tried to make piping and it just wouldn't go through the machine. I couldn't even fit the fabric wrapped piping under the presser foot. What to do?? I cut strips of 1.25" fabric, folded it in thirds, and sewed down the middle.....
Then hot glued the trim strip to the edge. Not quite double welting but with the thick fabric it was the best I could think of using materials I had at home and without using that gimp stuff. Not that I'm against that...I used it on
my french chairs
but I didn't want to use it for this.
If I get brave I might do a stencil on the top....maybe a monogram or a simple graphic of some sort...I feel like it's begging me to do something to the fabric but I'm so nervous to touch it! What do you think? Will I ruin it?
Now....where to put my little bench??? It keeps moving to different places in the house. I just can't decide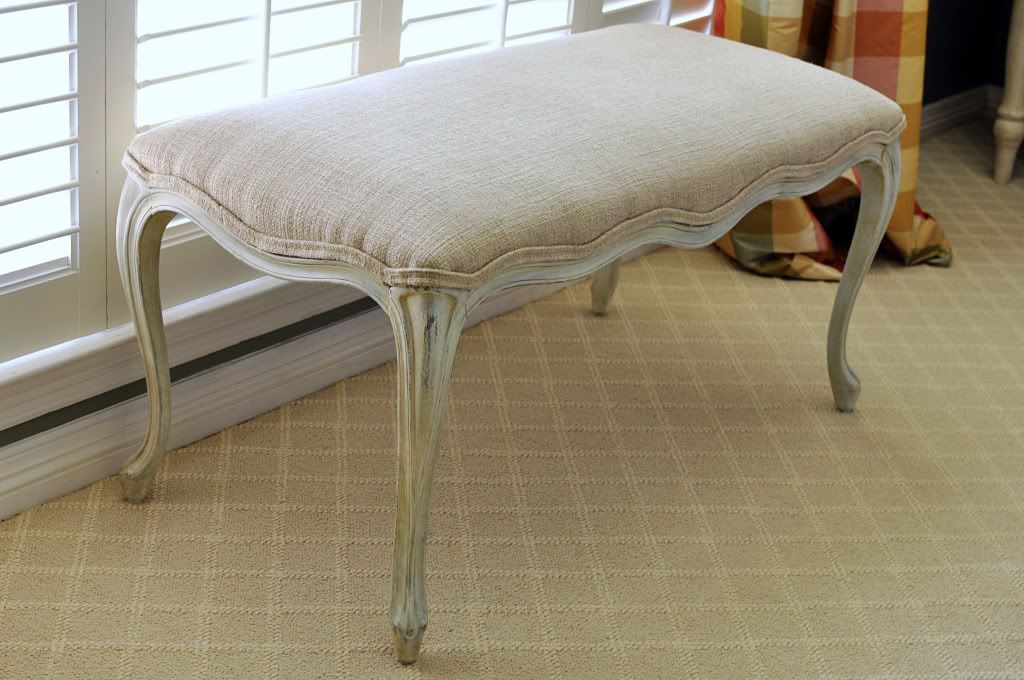 Showing off at: