Like many projects around here, I started this one with such a burst of energy that I forgot to take a proper "before" photo so the transformation may not make as big an impact on you as it has me.
I purchased this darling table at an antiques fair a few years ago. I really like it but it was starting to show some wear, especially as a kitchen table where we eat most of our meals. It was already "distressed" but it wasn't sealed at all and every time it got scratched or the kids put a sticker on it, the original gray paint peeled off revealing the honey colored wood underneath. The legs were painted a flat black and were also unsealed. You can imagine they had food particles and scratches all over. Flat paint is not very easy to clean.
After 2 kids and 3 years my little table needed a facelift but I wanted it to stay true to it's original look.
I used a brush to paint the top with the much blogged about
Annie Sloan's Chalk Paint
in Paris Gray. This was my first attempt at painting a large furniture with chalk paint. Paris Gray is a really lovely color. Here it is drying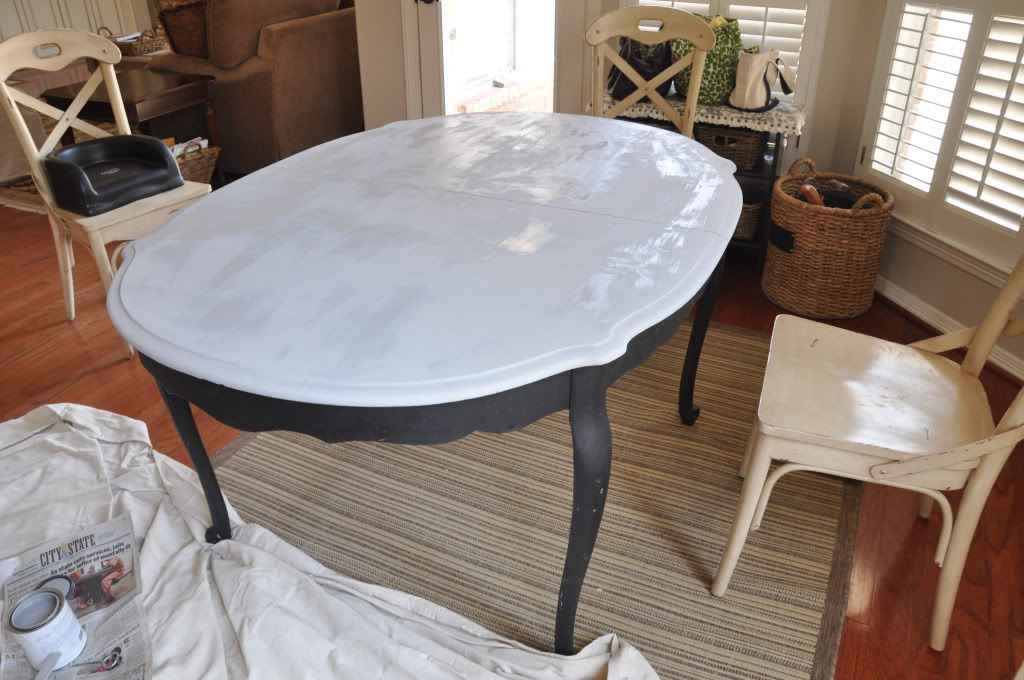 It dries very fast. I thought that was all I would do until my husband came home to help me carry it outside but noooo....I got impatient and brutely carried this thing outside BY MYSELF to do the next steps. I guess I got carried away because I have no pictures of the in-between.
I used Hannant's Clear Wax, which is sold with the Chalk Paint products, after the Paris Gray dried
After the clear wax, I sanded the places I wanted the wood to show through. Seems weird to sand after you wax but that what they say to do to get better results.
Then I brushed on the Fiddes and Sons Wax in Jacobean, wiping away where it was too dark for me. The nice thing about this wax is that you can add the clear wax back (even after the darker wax has dried!) if you want to lighten it up. The clear wax acts like an eraser so you really have great control over what your finished result looks like.
Then, I proceeded with what should have been the first step and spray painted the legs with a satin black spray paint to freshen up those legs. I plan to add a clear wax to the legs to make them a little more "washable" this time around.
Here is the final product, hopefully you can see some of the detail
Here she is! Brand new!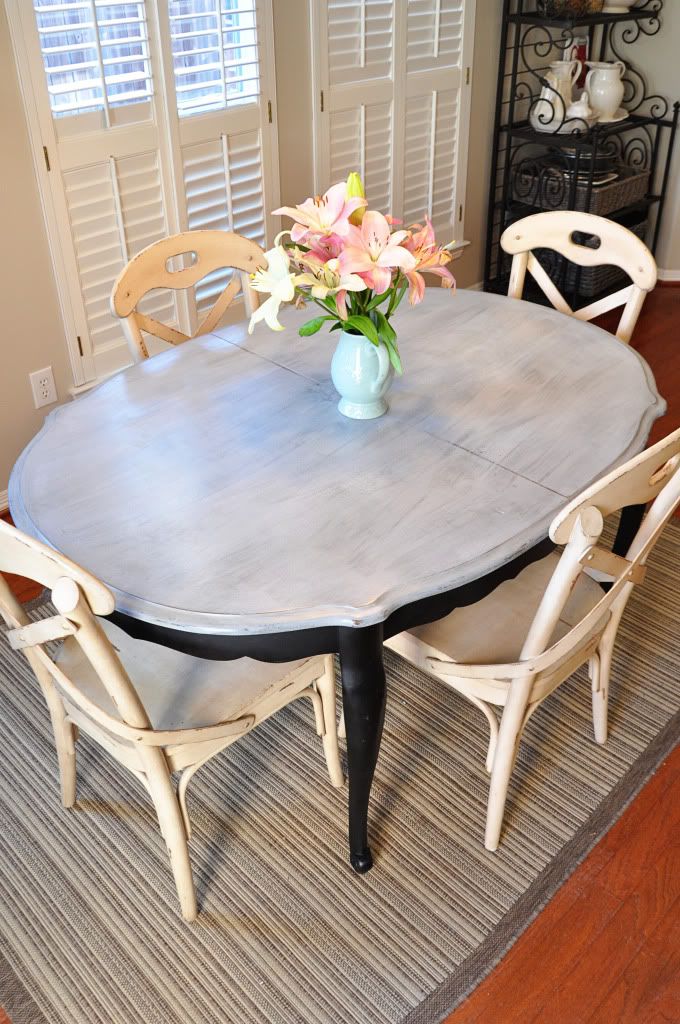 Partying At....
Frugal Friday at