Well, today I was delighted to discover that my little hutch redo was featured on The Shabby Nest's blog!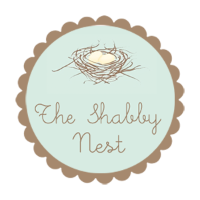 Although I have no aspirations of becoming a decor blogger like the dedicated women who blog the sites listed on the right column of my blog, I do LOVE LOVE reading these blogs for inspiration and ideas. And I am constantly amazed by all the people that share my same crazy thoughts and love for anything made with a little sweat equity.
So when these bloggers have "show and tell" days like Shabby Nest's Frugal Friday Parties sometimes I throw in my little project and hope others can be inspired, as I am by their projects. So imagine my surprise when I noticed some major traffic to the blog today and realized Wendy had picked me as one of her favorite projects!
Wheeeee!
Click here to see her feature